The test has two divisions: the Junior High Division, and the Senior High Division.  For 2021, students in their first or second year of Junior High or Senior High School may enter and take the test. 
Interested students will first take part in a twenty-minute test, which is administered and recorded by the student's ALT. The video is sent to judges for evaluation and results are announced before summer vacation. The test's emphasis is on communicative ability. Entrants are awarded points for showing creativity with their acquired English, for their ability to express thoughts clearly, and for how they cope with unfamiliar vocabulary and grammar. Since the test is based on Japan's National Curriculum, its content should have been covered in all students' classes.
---
Test Preparation
The 2020 Test Preparation Package gives a rundown on everything you need to know about the test, including how to prepare your students and how to administer it! If you need more information, please check out the previous tests or the HEC Guide!
HEC 2020 Test Preparation Package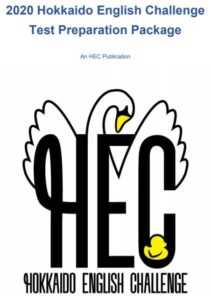 Previous Tests
Previous tests can be found here. They're good for practicing with students, so please take a look! There's copies of tests dating back to 1999!
---
If you have any questions concerning any aspect of the HEC test, please contact us!