** For 2022, the Hokkaido English Challenge is continuing with the HEC Test only. Unfortunately, we are unable to host the HEC Camp for 2022. See below for more details.
Thank you for your continued support! **
The Hokkaido English Challenge is an English competition for junior and senior high school students. It was established by JET Program participants in 1994 as a means of motivating students to improve their speaking skills. HEC's founders hoped that interaction with Assistant Language Teachers (ALTs) would boost the student's confidence and language abilities. The test challenges students to use the English they have learned beyond the classroom setting, allowing them more interaction with a native English speaker, while using their abilities creatively.
Originally, HEC hosts an immersive English summer camp for top winners in each junior and senior high division. However, due to the effects of the COVID-19 pandemic, the camp has been canceled until further notice.
To provide prizes, HEC relies on entry fees and donations gathered from fundraisers. It is only with the fantastic support from the Hokkaido Association for Japan Exchange and Teaching (HAJET) and Hokkaido's ALTs that we are able to hold this competition every year. HEC is accredited by the Hokkaido Board of Education and is sponsored by HAJET.
---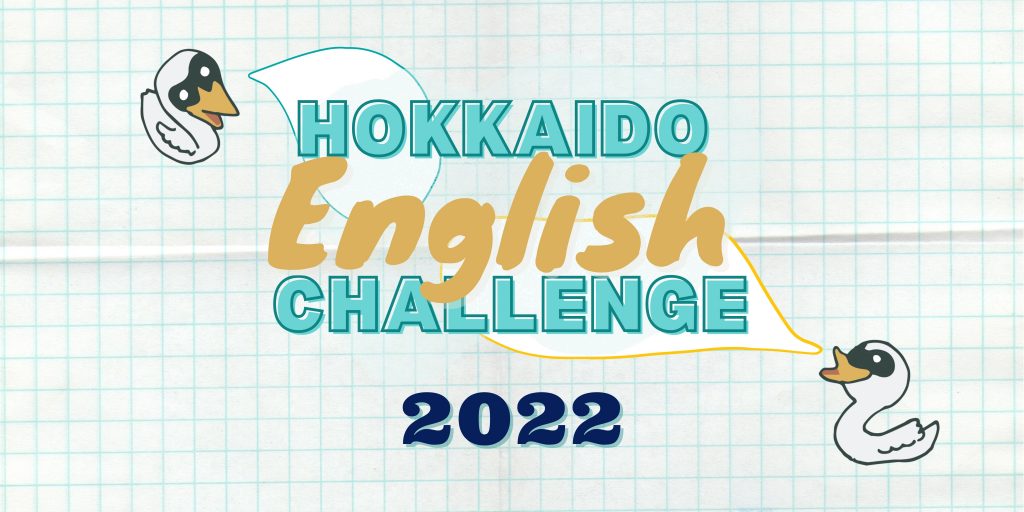 The HEC team is very excited to announce that we will be continuing with the Hokkaido English Challenge for 2022*!!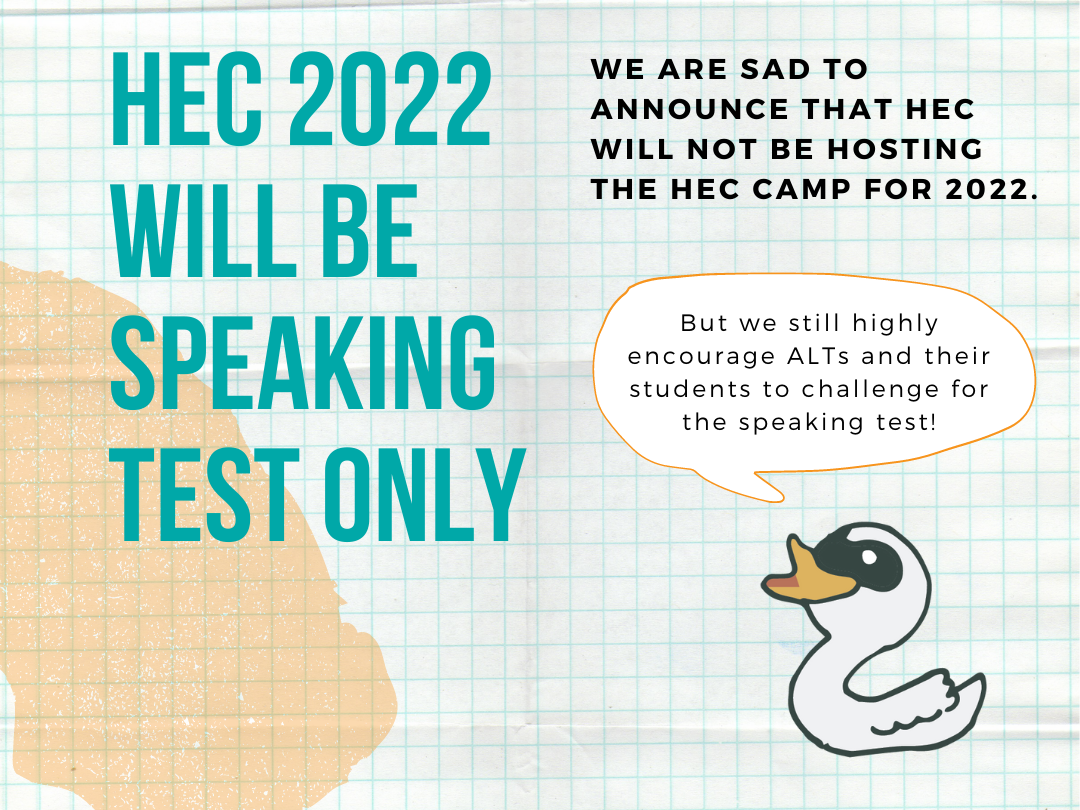 However, due to the restrictions of the COVID-19 pandemic, we will NOT be hosting an English summer camp. We will NOT be awarding a homestay experience to the grand prize winner. HEC 2022 will comprise only of the speaking test that is administered by an ALT and a witness. Upon completion of the test, the student will receive a Certificate of Completion that can be supplementary towards high school and university applications.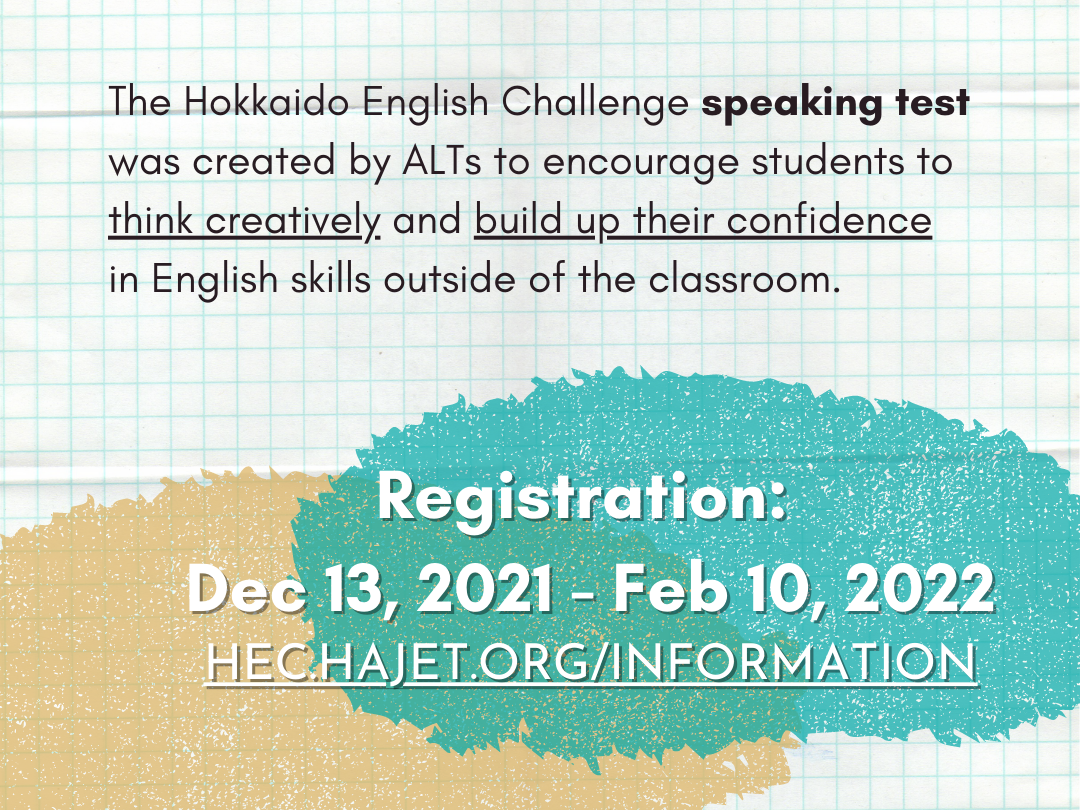 The HEC Test is open for all JHS and SHS first-year students in Hokkaido.
The entry fee has been lowered to 1000 yen for this year.
Registration Period: December 13, 2021 – February 10, 2022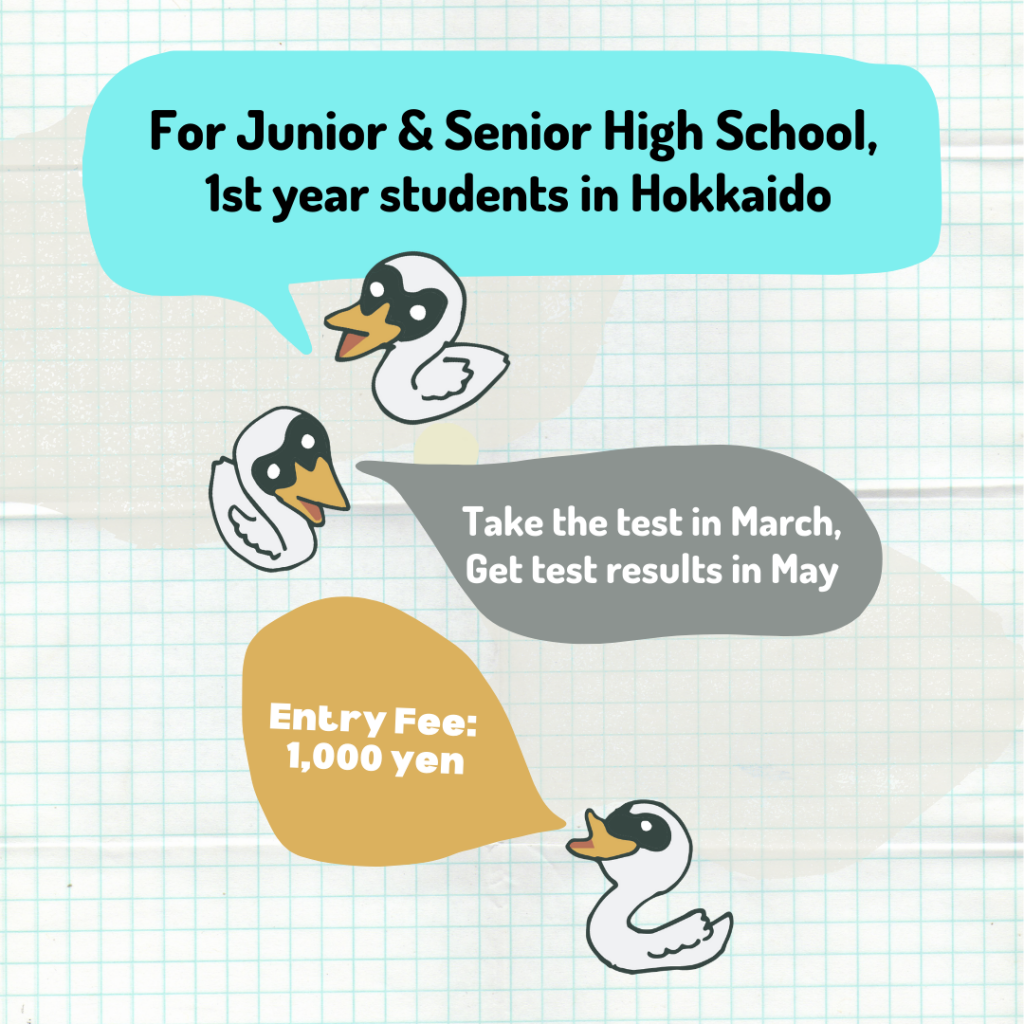 🥇 The Grand Prize winner will receive up to 30,000 yen in English related gifts of the student's choosing.
🥈 The second place winner will receive up to 15,000 yen in English related gifts of the student's choosing.
🥉 The third place winner will receive up to 7,500 yen in English related gifts of the student's choosing.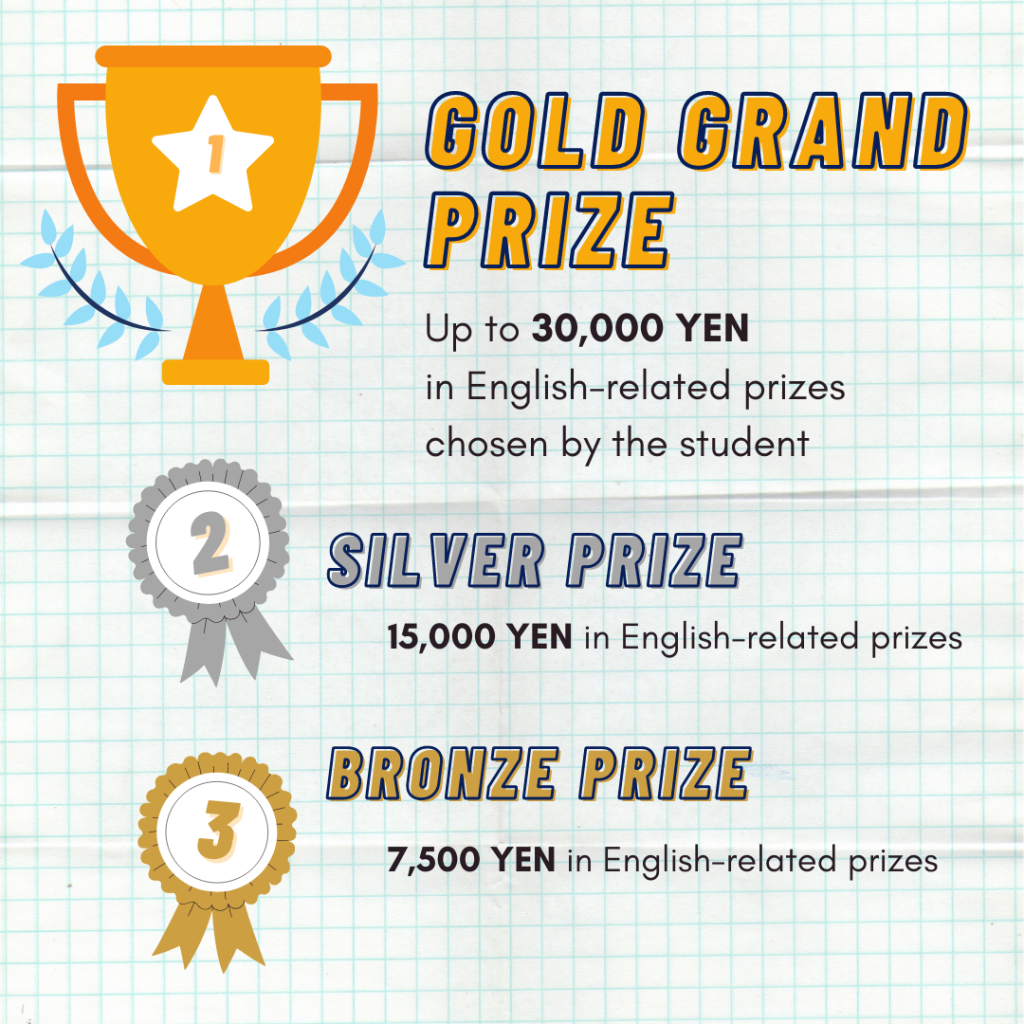 Thank you to the ALTs and their students who have expressed interest in doing the English Challenge despite the setbacks of this year. We are endlessly thankful for your continued support and we look forward to cooperating with you for another successful HEC year! Be on the lookout for more details about HEC coming out soon.
* Participation of ALTs and their corresponding Board of Education may vary depending on the situation of the COVID-19 pandemic and restrictions.
Registration is limited to 10 per grade, maximum of 15 students per school.
---
THE HEC STARTER KIT
HEC is an exciting opportunity for both the ALT and the students. There is a lot of information and steps that need to be done, so it can get overwhelming. But not to worry, we've put together a Starter Kit (coming soon) that has all the important documents you need to successfully administer the Hokkaido English Challenge right at your schools.
The Starter Kit includes:
The Official and Abbreviated HEC Guide
Letter Packs, a formal letter addressed to the BOEs, schools, parents, and teachers about HEC
Paper Registration Form
Posters in both English and Japanese
The Test Preparation Packet
The previous year's JHS test
The previous year's SHS test
Individual links to all these resources can be found on the Information Page. If you have any questions about how to use these documents or about HEC in general, the HEC Director email is always available at hec@hajet.org.
General Timeline for 2020-2021
December 13, 2021 to February 10, 2022: Registration starts. Start talking to your teachers about HEC and gauging the interest of your students.
January: Practice with your students! Look over past tests available here. Read through all materials and make sure both you and your students understand the rules of each section. Register students for the test.
Mid-February: Registration deadline. Practice with your students. Prepare video/audio equipment, a room, and a witness.
March/April: Test deadline. Receive test packets. Check your recording room and equipment ahead of time. Check for correspondence from HEC Test Coordinator.
May: Winners announced!